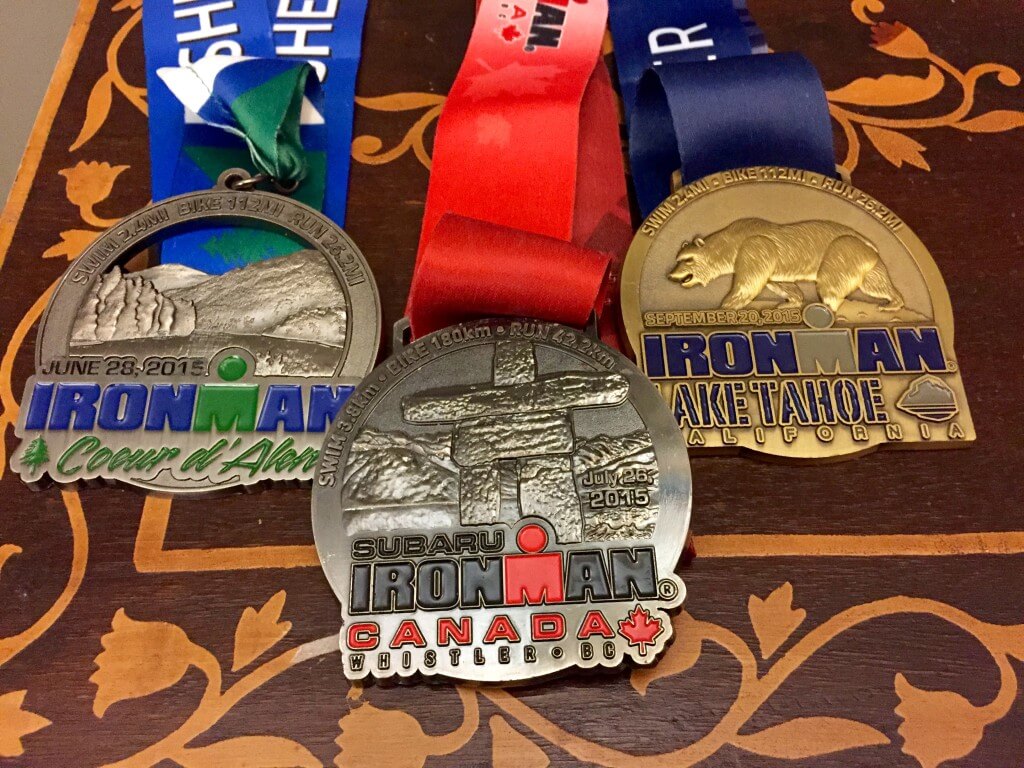 Some of the highlights of the 2015 season I broke 5 hours for the Half Ironman Distance , at St. George, the first time in over 10 attempts. I had my highest ever placing at an Ironman at Coeur d'Alene. I also swan 1:03 for the first time. At Whistler I beat last years time by 10 minutes, and had a PR on the run. At Lake Tahoe I went 1:03 in the swim for the second time.
The 2015 season was partially formed in the last few months of 2014. In October the opportunity to train and work at the Summit Performance Triathlon Camp in Tucson Arizona came up and I decided to go for it. I was super excited to work with such incredible athletes, and be in Tucson to train in the spring time again, in 2013 I worked and participated in the camp, it was a great time! My 2013 season was also a significant step in my developement as a Triathlete. At the 2014 Ironman World Championships I registered for St George 70.3, in a moment of impluse , hoping to win a raffle that offered a free race entry, of course I knew I was going to race at least once more. The Summit Camp in March, St George 70.3 May 2. Racing Ironman Coeur d'Alene June 28th made the most sense training wise. I felt the timing could not be better. I don't have the talent and/or resources to have multiple "A" races, I decided IMCDA was it, my "A" for the season.
The Summit Camp, motivated me to bike all winter. It was easy to bike last winter since it was so mild, but I was prepared to ride inside on my trainer too. The rides were fun we kept them easy, with some spirit mixed in, but over all we all did super well. I went into Camp ready I purposely kept my watts in check, in 2013 I got carried away the first couple days and suffered. I also showed up run healthy not fast, but without any minor or nagging injuries. Camp was incredible, great people most of which I have trained and worked with in the past. Being in the desert training, eating, getting ready for racing Ironman with my Summit teammates from all over the country was super inspiring.
St. George I finally went under 5 hours for a 1/2 Ironman after at least 10 races dating back to 2001. The whole weekend was fun, with Teammates from Summit Performance Racing and the Ironheads. I stayed Bridget and Whitney, who also did were at Camp. In October Whitney had competed at the Ironman World Championships in Kona, I was lucky enough to tag along there too. I worked in the Massage tent post race and was so inspired all season long as a result of that experience. I write this my motivation again has kicked in. David who I train with and also had gone to camp raced as well, teammates Mike, Thaine and Shawn, were there too to race. Ann another teammate shared meals and time with us as well. Ann and Bridget both won their Age groups. I came away for the race and weekend feeling good about everything, and with ideas how to improve.
Coeur d'Alene I felt ready! With St. George being a PR, training going super well I thought all I needed to do was execute most of the plan I didn't even have to be super lucky. My confidence was high. The day ended up being record high temperatures, not just for the town but also for Ironman so it was announced. 11:29:08 was not PR but, I did break into the top 20 for the first time in an Ironman with significant numbers.
Camp, St. George, and IMCDA were all planned well in advance. I'm still not sure why I decided on Ironman Canada. I had friends racing it, I didn't push myself at IMCDA, becuase of the heat. I had friends to stay with, I had a score to settle on the course. There was fair sized contingent of Athletes Lounge Cycling Team member going to mountain bike, volunteer and cheer. The biggest challenge was it's only 4 weeks after IMCDA even though I knew it would be a "b" race at best, it could be rough. I was able to recover from IMCDA and get ready for IMCA with the Dave's Coaching and Anni's Thai Massage, my new plant based diet, the biggest factor for me is the quality of the calories, thanks to Lisa. The community of teammates, the well wishes, my local Bike Shop Athletes Lounge who constantly come up big for me, and my people.
Whistler , Ironman Canada, as hot as it was in Coeur d'Lene, it was that rainy and cold in Whistler it was a 50 degree swing. The rain was a relief since areas near by had been hit with wild fires. Some of the people that were coming to watch ended up not being able to come, but it was still a super strong group of Portland Area Athletes. I stayed with Christine and Joe, It was Christine's first Ironman, her personal story, her family story is inspiring. I wanted to be helpful as possible and still take care of myself. Joe was great for the entire time, he was able to get me a cold beer within 5 minutes of me finishing.
Ironman Tahoe to wrap up the season, again why we do these races is a bit of a mystery, I was still feeling fit, Physcially I was fine, I took my break and was having some fun, ended up doing a big hilly ride with my Coach Dave and some other Summit Athletes, at the top of one of the hills I decided I was ready to do Tahoe. Finishing Tahoe would be my 12th ironman and my 10th WTC Ironman. I have 2 more WTC Ironman races to finish to be elgible for the legacy program.
The 7 weeks between Ironman Canada and Ironman Tahoe went well, my training was different and a bit off from most others that I generally train with, for a couple big reasons they were either done with their seasons or Tahoe was a bigger race for them than me. Logically I had little hope to do well in multiple Ironman races in a season. 3 Ironman races in 12 weeks is a lot for even the most dedicated and talented athletes. Tahoe my goals and expectations were low, so I thought, but now over 2 months later I know I was mentally and spiritually unable to expect much more than I the race I raced. I have come to terms with it, I think anyway.
My 3 year goal, 2 years ago was to try to finish 5 more WTC Ironman races by 2016, to have 12 finishes and be elgible for the legacy program and race Kona. I'm not fast enough to qualify for Kona, I've only been in the top 20 of an Ironman once. The men in my age group that qualify for the World Championships are close to 2 hours faster than I am. The legacy program is a reward for racing a lot, it is the opportunity I have to be a part of the the biggest event in Triathlon.
"A Logical Love is Impossible" Trey Anastasio Band TAB from the song Invisible Knife. I doubt a cited that correctly but I love that line for so many reasons but simply on face value it's true. Many Many people question my racing, even those that I train and race with question my racing. I can't logically defend my choices, But I love the sport and all that is has provided for me. Part of the reason I race is because I was given a second chance in 2012 when I had my left hip fully replaced.
Now with 2 WTC Ironman races registered for the 2016 season, I'll be elgible, for a legacy slot, if I finish, I might not get one for 2017, but I'll be ready. Wish me luck