It was hot, real Hot by many reports 105! My gadgets reported 90 on the bike and 99 on the run. The heat would play a role all week. There was talk of shortening it to a half, due to the heat. It was decided to stay with the full the morning of the race. I'm so happy it stayed the full, the race will be one that sticks with me forever.
I came into the race as prepared as I have ever been, the mild winter weather and a change of attitude had me biking outside 2 or 3 times a week since November. I didn't race any running races, compared to 2014, when I raced two 1/2 marathons and Boston, which lead me to be either hurt or about to be hurt all winter and spring. The combination of winter riding and slower running was key to missing very few workouts once I was on an actual Summit Performance Training plan. The end of March I had a big boost in fitness going to train and work at the Summit Camp in Tucson, I felt comfortable all week long, never out of my league in the training rides or runs. In May I finally broke 5 hours in a HIM at St George. The winter riding, camp, St George, all the lead up to IMCDA went well so I felt I good about the race.
I have to give a lot of credit my teammate and friend Whitney for helping me become almost an all weather rider. She has been a constant in my training this season, riding with her, staying in my zones, obeying my watts on Saturdays made my Sunday runs go so much better. Five or six weeks out, I told her proudly I had done all my workouts that week she rolled her eyes or something like that and said how about you try to make all your workouts until the IMCDA, subtle but effective.
The final lead up to IMCDA my "A" race went well I was able to get back in to my weekly 2 hour Thai Massage with Anni. My triathlete and running clients/teammates/friends tend to come back more often during the season. Many of my clients that don't participate in endurance sports have come to be super supportive too. I'm so lucky to be around people all day long that understand my desire to train and race Ironman. My friend Kristin, who will only ride with me if the ride is epic, called me sappy, when I thanked her for all her support, Ironman does bring a lot of emotion to the surface.
My coach Dave suggested we do our swim and bike Wednesday morning in Portland before we drive to CDA. It was my first time with Race wheels, I rented from Athletes Lounge, they felt fast and fun. The drive to CDA was smooth, uneventful, the next few days were a bit of a blur I did my best to stay off my feet as much as possible, stay hydrated, get all the pre race logistics done, touch base with my Summit and Ironhead teammates while keeping in mind it's a hobby, a passionate one for me but still a hobby or lifestyle.
Race morning I had a bad feeling I left my Garmin Edge at the hotel room, after dropping off special needs and getting to the bikes I confirmed I did. Scott Dawson came to the rescue going back and getting it. It proved to be invaluable, I'm sure having it was the key to not blowing up.
The swim I had a big PR with a 1:03:33 it was more a result of strategy versus strength. I had one of those slow motion falls on my bike a few weeks before the race and hurt my shoulder. I found the right feet before the first turn and kept with that group for the rest of the race. I'm not a fan of the newer wave start, I think we should all be racing from the "gun time" not the " chip time" but it did help me in this case I had very few issues with being hit, kicked or pushed. I got lucky! it's really that simple. I exited the swim in 218th over all
T1 I don't recall, I see the time was 3:20 that's faster than normal but the tent would have been less crowded with a 1:03 versus a 1:08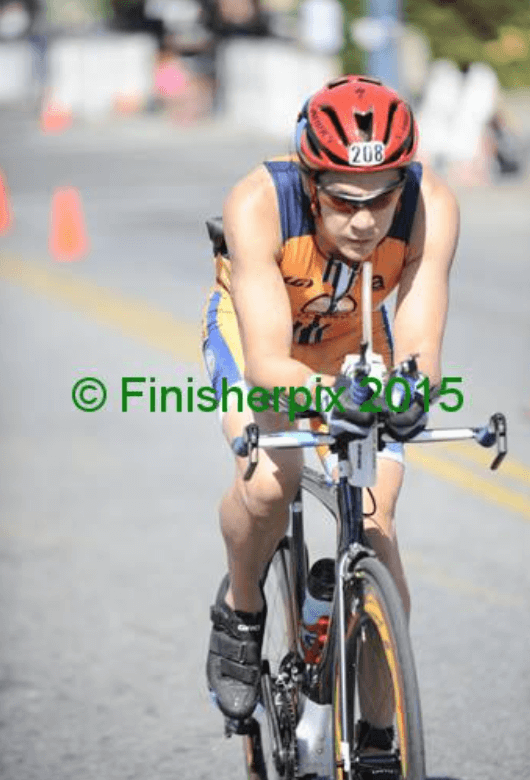 The Bike 5:52:50 The plan was to dial back the effort since it was so hot. My avg watts were 155, in 2013 the same course my watts were 196 and I did a 5:43. I didn't see my friends in front of me right away. I was so concerned about keeping my effort in check I stared at my Garmin at least half the time. I felt like I was moving through quite a few people the faster swimmers and I was being passed by the faster cyclists too. Early on in the bike, Tim caught me and said hi, he was flying, soon after I caught a Barkley, she was in her first Ironman I'm really glad I got to be on the course with her. I saw Justin coming back at me on the 2nd out and back and he was looking strong, I also saw my coach Dave and he looked relaxed. I think they were about 20 minutes ahead of me. I caught Whitney some time between 30–50 miles, she said she didn't have any power, her battery wasn't working, that was heart breaking, but she does know how to ride and we ride the same speed. I told her as she passed me or as I passed her to key off me, since I was being good , I wasn't pushing my watts. I was afraid of the run. I wasn't drinking enough water the first 2 hours, but I did catch up on the water over the next 4 hours. The ride was mostly clear for me not too many packs of cheaters drafting, I'm not sure if it was the course, or the day, but I never felt the frustration I get when I see a line of 20 people clearly drafting. By the end of the bike I had fallen to 225th over all.
T2 My friend Jorge was there to help me switch shoes I left the tent and Whitney was there getting water or sunscreen or both. She gave me a high five and I said lets do this we crossed the mat onto the run at the same time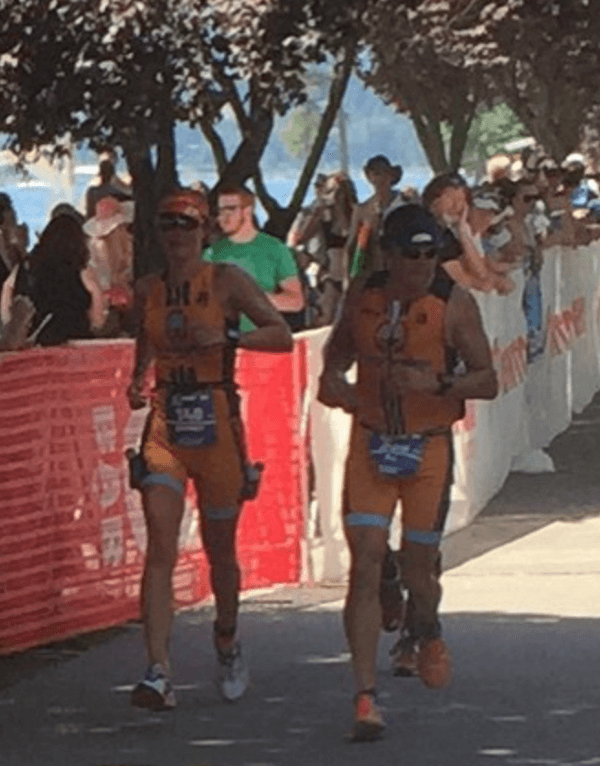 My original run pace was to be about 8:30's but with the heat it was decided I should go out at 9's and see at 16 how I felt and again at 22. We ran out and Scott got this pic of us. We ran together most of the miles I'd guess there were a few times she put 100–200 yards on my and vice versa but for the most part we ran within 10 feet of one another. I've never done that in a race before, I can't imagine it could happen again. I know I benefited from the teamwork. I was told it was easy to spot our race kits that is a big part of why we race in orange with the 2 of us it was that much easier to spot us and I could hear our teammates and friends cheer for us that much more. Bob, Karon, Steve, Marie, Jorge were all over the course cheering us on. Scott was also in great places to cheer us on too. It was easier to see my Summit and Ironhead teammates on the run too, Justin, Kevin, Dave, Cara, and Barkley, were all easy to spot or they spotted us. I also was able to see Sotiri on the run we were both walking at the time we exchanged full sentences of encouragement.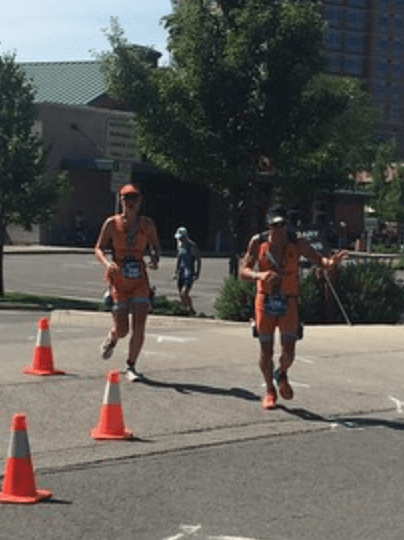 All along the course spectators would cheer for us as a team. I walk through every aid station, so Whitney would pass me, the 10–30 second mild pick up I'd do to catch up to her was enough to keep me from taking any risks, it was a day to play it safe. I ran through all the sprinklers I could, residents and volunteers spraying us with water, the unforeseen result were my shoes and socks were wet the whole run, my feet pruned ergo I got blisters for the first time in years. The blisters took me out of my normal foot strike, making my feet cramp up, again it wasn't a day to take chances.
I went in to the race prepared to dig deep the last 8k, and I had told my friend Julia I had already decided I would suffer the last 4 miles, but it wasn't a day for a big kick. I metered out my effort all day long the run was a mental game, it was hard the whole time. I could not have done it without Whitney running along side of me. I ended up 182nd over all and for the first time in an Ironman I placed in the top 20 in my age group with 19th.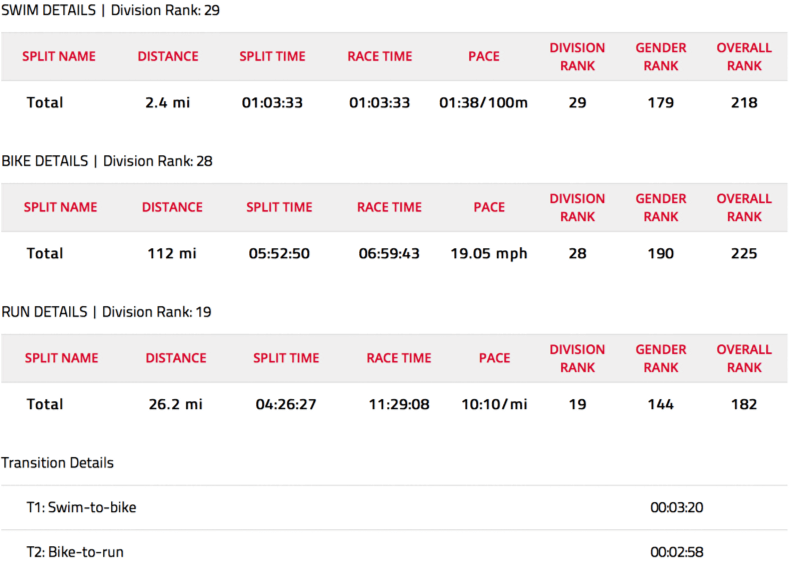 Post script
Since 2007 I have been making changes to my diet, but they would be temporary, my weight would swing 30 lbs. I had been making progress to control this but still wanted be leaner and healthier. In September I started working with Lisa Sullivan to clean up my diet, slowly I've become a vegetarian, my calories have more vitamins nutrients, I avoid processed foods, foods that cause inflammation. My recovery between workouts and even this race is so much better than any other season I've been in. More on this issue in another post.
Post Post script
IMCDA has special place in my heart, in 2004 I had a horrific race(13:17) so bad I took a year off from training, participating, and triathlon, I only exercised a bit. It wasn't until 2010 I again thought about actually training for triathlon, in 2011 IMC did me (14:17)
In Jan of 2012 I had my hip fully replaced, in June of the same Year with the help of Dave Ciaverella's coaching I came back to IMCDA with a 12:06. In 2013 I came back to IMCDA with Ann Ciaverella coaching me I had 50 minute PR with 10:54.
2015 I broke in to the top 20 in my age group for the first time