My history with IMCDA , is one of celebration, mostly, in 2004 I had unrealistic expectations, and went a over an hour slower than my worst Ironman ever. That race broke me, I didn't race for an entire season, I rarely exercised, I threw myself in to a home remodel project, and probably did my body worse damage than improperly training for an Ironman, Marathon or all the years of Wrestling.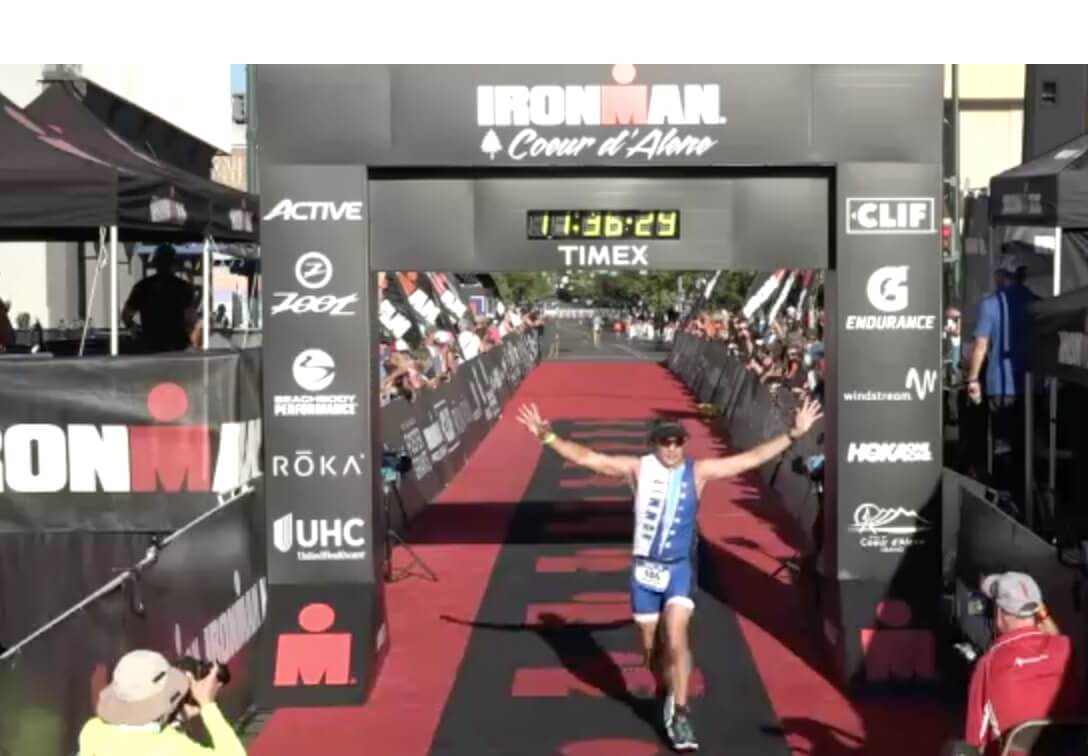 In 2012, I had my left hip replaced in January, just shy of 6 months later I had my second best Ironman time in 6 tries. That was also the year it seemed every Triathlete I knew in Portland was doing Ironman Coeur d'Alene. It was a race, a day, a season that felt like the whole world wanted me to do well. My finish time was 12:06 far from the podium but solid race I'm still happy with.
In 2013 after working on my run walk strategy especially the walk intervals I came back and bested time by 70 minutes, finishing 10:54, a 50 minute PR, That would be the first of 3 break out type of races for me, 11 days later I got my first Boston Qualifying time 3:17,on a flat fast course, the Foot Traffic Flat Marathon, 17 days later I would PR my Half Ironman time by over 20 minutes with 5:02 at Lake Stevens
In 2015 Ironman Coeur d'Alene had the hottest day in Ironman History, I'm not sure if that is true but it was being said all week long going into the race and the day after the race. It was an age group placing PR for me I broke into the top 20, with 19th for the first time ever in a big race. I was also in the the top 10% of my age group. My time was 11:29. far slower I had hoped for I had gone under 5 hours for the first time at St. George 70.3 7 weeks prior. I did the whole marathon with one of my training partners Whitney. Two of my best friends Cara and Justin got engaged, to each other, my freind and coach Dave took second in his age group to get another slot to Kona. Bob Rakoz set the standard by having a cold beer for me at the finish within a minute of finishing. Several friends came from the East side of the Country to Race with us, Sotiri, John and Melissa, Allan and Kathy.
IMCDA 2015 was the first Ironman of Three that season, 4 weeks later I did Ironman Canada in Whistler BC, then 7 weeks later did the Final Ironman Tahoe. 2015 was a hilly season.
2016 I finished my 11th and 12th WTC Ironman races, my first two ironman races were independent. I am now in the Legacy slot line to race the world championships in Kona. Having that somewhat secured I decided to learn to ride a Mountain Bike.
My adventures in learning to MTB have made me stronger, My spare mountain tire around my waist seems to be holding me back a bit. Same bike, same wheel set up, wind about the same, heat actually a bit better this year.
2015 CDA bike 5:51:08,155 avg watts, 167 Norm Power. 155 lbs race week
2017 CDA bike 5:51:05 168 avg watts, 181 Norm Power. 163 lbs race week
IMCDA 2017 was my first Triathlon of the season, usually I do at least one Half Ironman or an Olympic Triathlon to make sure I know how to navigate the transitions. I was a bit more than 1/2 convinced I'd do the race, I wanted things to go my way during the spring and summer, I wanted some sort of indication I should to the race. I didn't expect the announcement the race wasn't coming back would be the catalyst to my signing up and getting to the beach to start the IMCDA
"6 outdoor rides on my TT bike in 2017, 9 swims since May, 11 runs since HC100, 4 runs over 2 hours."
I posted this on face book the week before the race. High Cascades 100 MTB race preparation has dominated my training and recreation time. I wasn't making time to swim, I had been heavier than I like to be for running. I had all the reasons not to be prepared.
The Farewell to Ironman Coeur d'Alene
My swim Split 1:11 was my worst Ironman swim ever but I'm happy with the result given how much swimming I did in preparation for the race.
I had been inside on my TT bike a couple times a week throughout the spring and summer, along with learning to Mountain bike had me more ready for the bike than I had realized.
2015 CDA bike 5:51:08,155 avg watts, 167 Norm Power. 155 lbs race week
2017 CDA bike 5:51:05 168 avg watts, 181 Norm Power. 163 lbs race week
14 additional watts is significant, as significant at 8 extra pounds of fat, I can assure you it's not muscle.
The run, I had few solid training long runs, just not enough of them. My run split ended up at 10 pace, I was hoping for 9 pace, I probably should have made 9:30 my best case and went out at 9:40's it was hot, and I was under trained. at 10 miles 1:32, and settling in. at 13 2:02 and although a bit slower wasn't feeling bad. Then I was running 11 pace for the next 9 miles at mile 22 I was at 3:41, the last 4.2 miles I ran in 40 minutes to salvage a 10 pace marathon split.
My final times 1:11:22 swim 4:38 T1 5:51:31 Bike 4:44 T2 4:21:35 run for 11:33:50
I was 105th of 1106 overall, 9th of 112 in my age group.