The Day after Ironman Arizona I posted an unedited version of this on Facebook:
"Thanks for all the fun comments, well wishes, congrats and likes. I'm in a bit of shock, I hope for placing in the top 10% in my age group at these big races. I honestly didn't think 5th was ever possible, objectively thinking I doubt anyone who races and trains with me would think any differently, subjectivity speaking we all hope for some race day luck. When Kristin Valentine let me know I was in 6th and 5th was slowing down I wasn't sure that was possible but I choose to believe it, and started looking at calves as I passed by so many people on their first loop. At some point I passed a smaller than me guy in black that may have been the same guy I noticed on the bike. He passed me in the final mile the first person to do so since the bridge two miles out. He didn't have markings on his legs but I had planned to surge ala Justin Samples so I rode his shoulder, quieted my breathing and passed him and apparently dropped him, I asked several people if anyone was behind me, no one answered. As ran up the final "hill" still asking if anyone was behind me, one guy said no enjoy the finish shoot. I got a PR at my 16th ironman, 3 of them have been IMAZ, I'm on the podium at a WTC race for the first time, 5th of 238 in my age group. Boring details to many, later"
Here are a few more details. Once again thanks David Ciaverella, your guidance has been key since this second journey into Ironman began. The Summit Performance Coaching community has been so big in my life, it's impossible to imagine my life without it.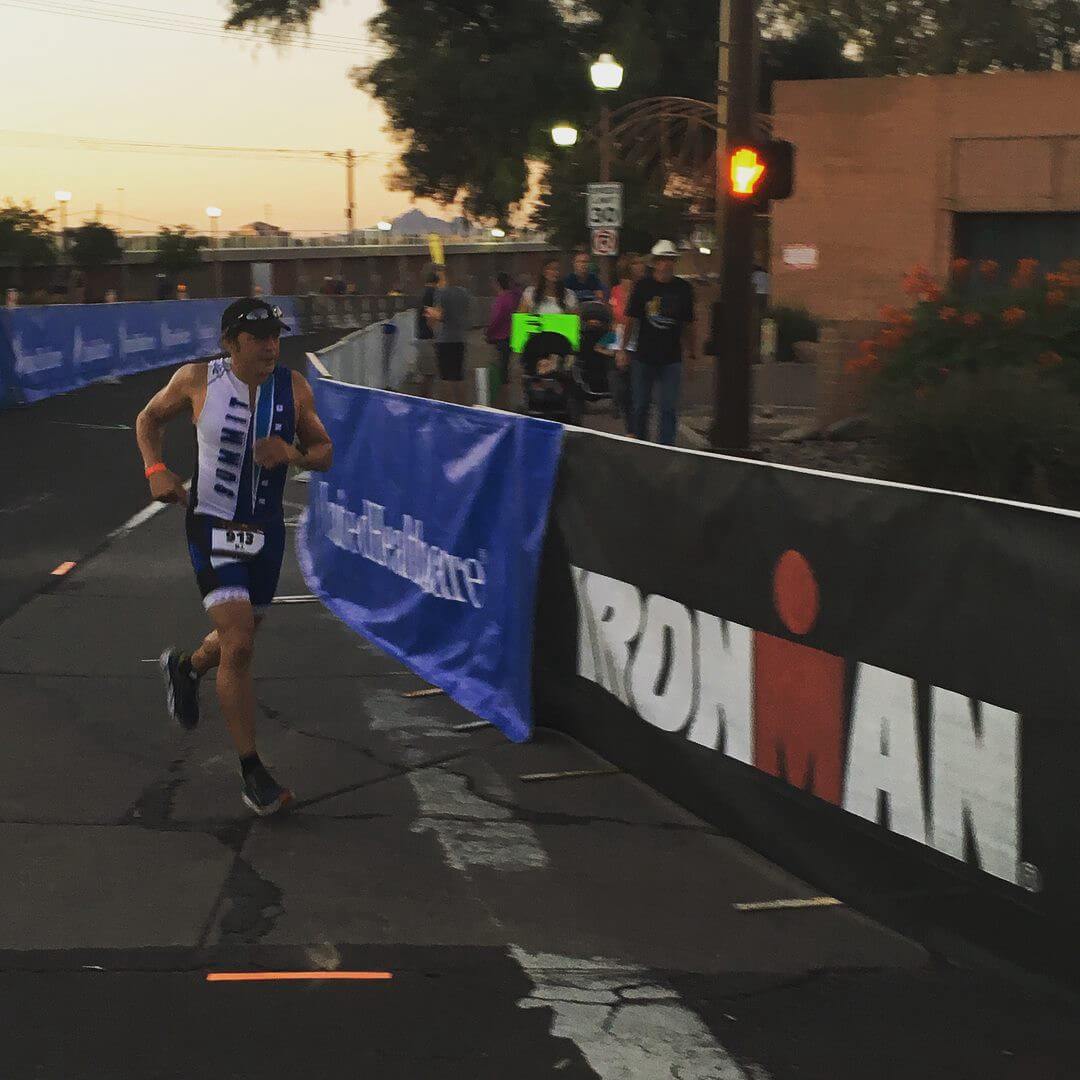 I'm in less shock it has been about 7 weeks, but I am still processing the race, the build up and this season.
After Ironman Coeur d'Alene I took 10 days off, eased back into training, I had self-coached, basically trained through IMCDA. I had a fun busy spring and summer learning how to Mountain bike with High Cascades 100 Endurance Mountain bike race as the finale. I think the night of IMCDA I reached out to my Coach David Ciaverella and let him know I was ready to get on plan.
I met with Dave, we discussed all the challenges, like most people, my work schedule is always the toughest challenge.
We talked about goals for IMAZ, I asked him if he thought I could do something special for me, meaning a Time or placing PR , I had avoided little injuries all summer long so I was coming into the training cycle injury free, but it was going to be a short cycle. His response was "well you don't have a choice" somewhat afraid to ask what that meant, I just decided to be 100% compliant with the workouts.
I've been on the Summit plan since 2010 and continue to learn more each season.
The swim went pretty much as it does for me. I didn't get many swim workouts in and didn't get any open water swims since IMCDA in August. I let time become a barrier. I mostly swam twice a week and built up to 3000 yards but didn't go beyond that. I was swimming faster in the pool than ever before but as we all know know, open water is different. I hope to be 1:05 and generally put myself in the correct area at the start. I swam a 1:08:02, about 2 minutes slower than my best time on that course. I had mostly open water no incidents, kept my googles on, a solid swim for me.
The WTC has decided to go to a rolling start at most races, I'm not a fan of the format since one can lose via chip time to someone who starts behind them. Maybe the podium or just the Kona slots should be based on GUN time not chip time so people can race each other without the burden of racing time differences.
The bike build up for Ironman Arizona was tougher for me than past training blocks, the weather wasn't great all the time, and training time was harder for me to find. I did very few workouts with my friends, teammates, training partners, I ended up getting only 8 outdoor rides on my Triathlon bike, 6 of the 8 were long between 65–80 miles 4–5:30 hours. I ended up riding inside on my trainer at least twice a week and often a 3rd time. It is easier to just get on the trainer and the quality of my trainer rides were higher than ever. I was grumpy about being inside for so many rides for a few weeks, but once I decided my goal wasn't to be entertained during training, it was far easier.
I didn't know what to expect on the bike race day. I didn't have the hours or miles I normally do on my TT bike. I did have a surprisingly nice bike split at Ironman Coeur d'Alene, the half year of Mountain biking translated more than I thought it would. The inside trainer rides mostly went well, even the long rides inside. I had a Bike fit done with Michael Sather which really helped me stay in the aero position, since my previous fit my body had changed a bit. Throughout the training I was able to stay in my aero bars much more than previous years. I was hopeful but I didn't have that holy grail of the last long outdoor ride.
My bike split was my fastest ever and my watts were not near the highest. The new position along having more biking skills helped as I was able to pass people in my aero position, in the past I would get out of aero, increase my watts to pass people. Staying in aero to pass saved me a lot spikes in effort. Even though it was windy I stayed in my aero bars, almost the entire race. I also made an extra effort not to let the cheaters, the folks who draft and block get into my head, and let them dictate my race.
I had 12 weeks between IMCDA and IMAZ , 10 days of that time was recovering for IMCDA so while I wasn't expecting to run too much, I was surprised I only had one 17 mile run, I only had 4 other run over 2 hours, but, I wasn't banged up and I was able to do the speed work during the week. In past seasons I've had to manage minor injuries, so that meant mostly easy runs. I've broke 4 hours in the Ironman run split only 3 times, the last time was at Ironman Whistler 2015, my best time, followed by a bike course that has a lot of coasting. This year at IMAZ my marathon split was 4:08:09, my 6th fastest time. I think, I can still run a marathon under 4 hours after biking 112 miles but a longer and smarter training block will be needed. I did have a few minor holidays on the run but it was my most consistent run, typically I have at least a mile where I walk the entire mile.
Thanks to Whitney Dawson who raced with me, we tried to find more training time together but it was just a rough fall season. Thanks to Scott Dawson who again was a clutch in the support role, along with Phil Krug, who I think witnessed his first Ironman. Teammate, Friend and Client, Kelly Johnson started and finished her first Ironman, I was able to run the final mile with her, it's always fun and inspiring for me to go back the finish and see the final hour or so.
I did miss some other friends finish including Chris Crever, a freind I know from the "old" Athletes Lounge had a good race following a rough week.
An extra special Thanks to Kristin Valentine who ended up dealing with very stressed out athlete the weeks and days prior to the race. She handled it well showed compassion and forgivness, and during the race Kristin let me know I was in 6th with 5th slowing down, giving me an extra incentive to dig.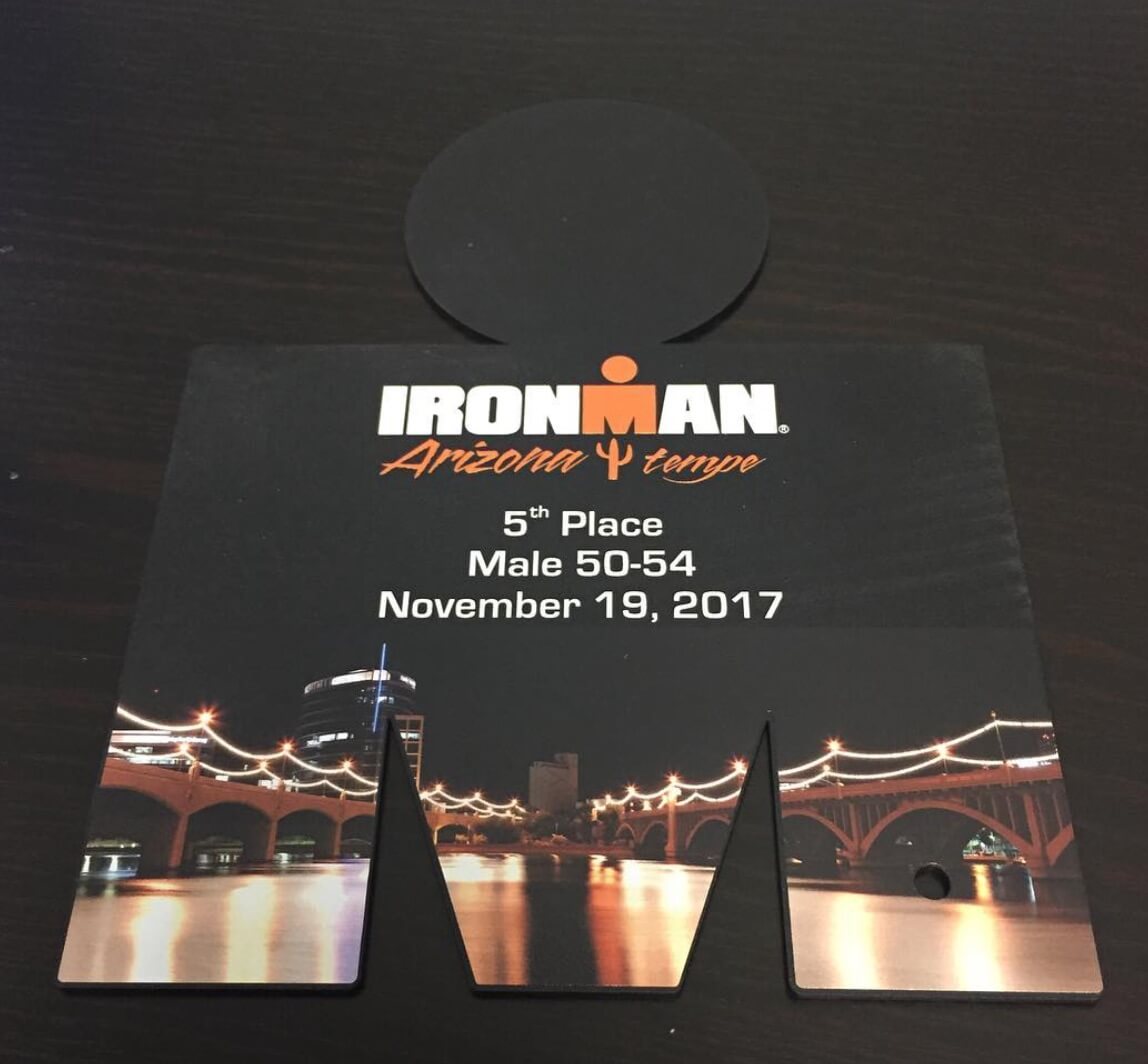 The numbers this year for me, 2017
10:39:19. swim 1:08:02 T1 5:20 Bike 5:14:46 T2 3:02 Run 4:08:09
157th of 3269 over all. 5th of 346 in my age group
Last year, 2016
10:50:47. swim 1:08:16 T1 5:32 Bike 5:28:00 T2 2:42 Run 4:05
328th of 2442 over all. 41st of 351 in my age group
3 years ago, in 2014
10:48:28. Swim 1:06:10 T1 5:33 Bike 5:37:18 T2 2:18 Run 3:57:09
225th of 3202 over all. 27th of 440 in my age group.
Here is a bigger picture of the 3 Ironman Arizona races I've done.