I'm a better Ironman athlete than Ironman blogger, part of the challenge with anything I write. Now after 2 seasons since my last Ironman, my appreciation for the sport and those I've come to know along the way has increased. Gratitude and counting my blessings has been tough throughout the past two years.
Ironman Santa Rosa, 2018
The best post race food I've ever had at a WTC race, Kona included.
2018 Ironman Santa Rosa, I wish it was still happening, great venue, swim bike and run. And the best post race food options I've experienced at a WTC event, made even better by the ease of being able to sit down with your friends that supported you during the race and race weekend.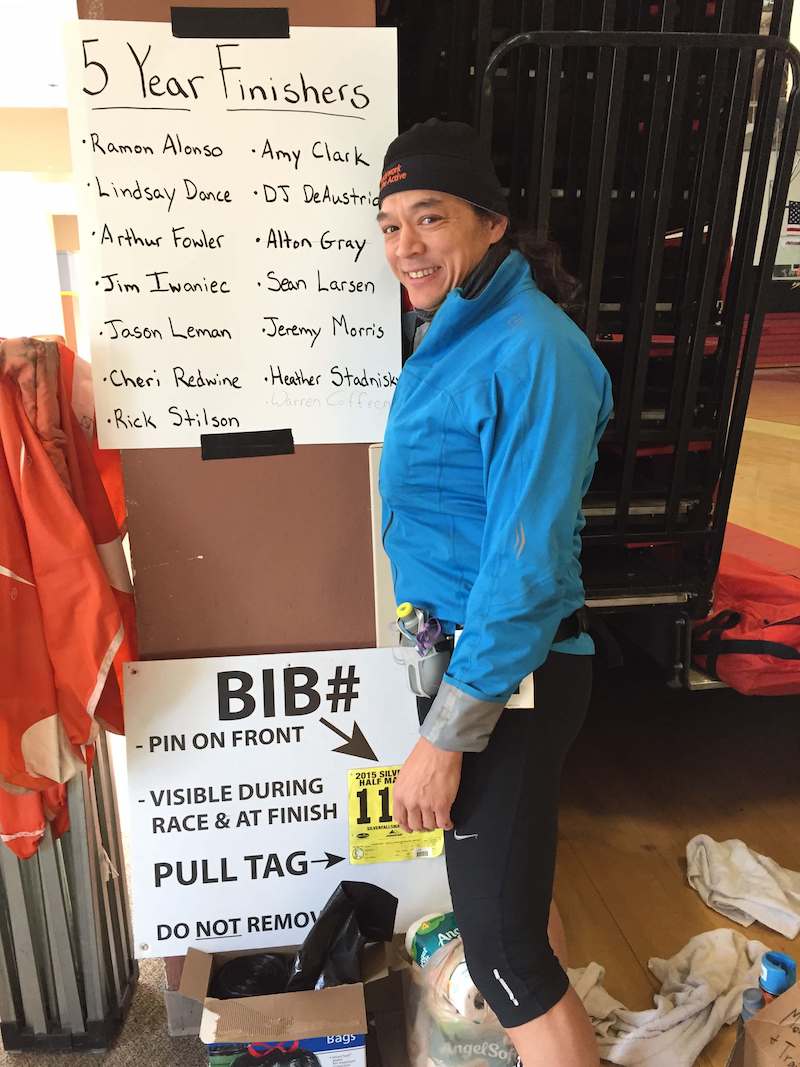 It was a May race, I did a lot of indoor riding on my rollers, very few open water swims. Running is always the easiest logistically, I had done the Peterson Ridge Rumble 20 miler four weeks prior and that test run indicated I was ready to run well. I didn't have much data to work with for the swim and bike.
It is a long drive to Santa Rosa, although pleasant enough with sit down meal and gas stops. I invited us over to a friend's house to cook dinner for everyone, Erin and Sarah graciously accepted my offer to make dinner, and it was wonderful to see them. We were also able to share a couple other meals in town. The bonds made through this sport are fun and amazing.
The point to point nature of races is always stressful for me, and this race highlighted the challenges athletes, spectators and race directors face. Race morning we arrived at the bus stop to be shuttled to the lake an hour after the first buses went, the window was 3 hours. The buses were all gone or filled when we arrived, apparently spectators had filled the buses, leaving many athletes waiting for hours for the buses to return from the lake. I was honestly impressed with all my fellow athletes for staying cool and accepting the situation. Our bus arrived at the lake, transition 1 area as the race was starting. I scrambled, as fast as I could, along with everyone else on the bus, to check my bike, put my nutrition bottles in the cages, mount my bike computer make one last nature stop, filled and checked in my dry clothes bag. As calmly as I could I ran down the ramp pulling on my wetsuit made it down there just a few minutes after my self seeding time was launching, 2 people at a time, I crowded my way being polite as possible to the gates and went into the water.
I didn't go through my normal gathering of my thoughts before a race. I let that play too much into my day. As physical as an Ironman is there is a spiritual and emotional component that is hard to deny. I haven't figured out how to be as robotic as I need to be for racing.
My swim time was a hard fought 1:08:14 which lines up with my normal IM swim split. I passed many people because I started a bit late. The issue is athletes tend to be too optimistic about how fast they will swim. I don't have the answer, and I expect this is always the case.
T1 was up a big long hill, so it was one of the longer, slower swim to bike transitions.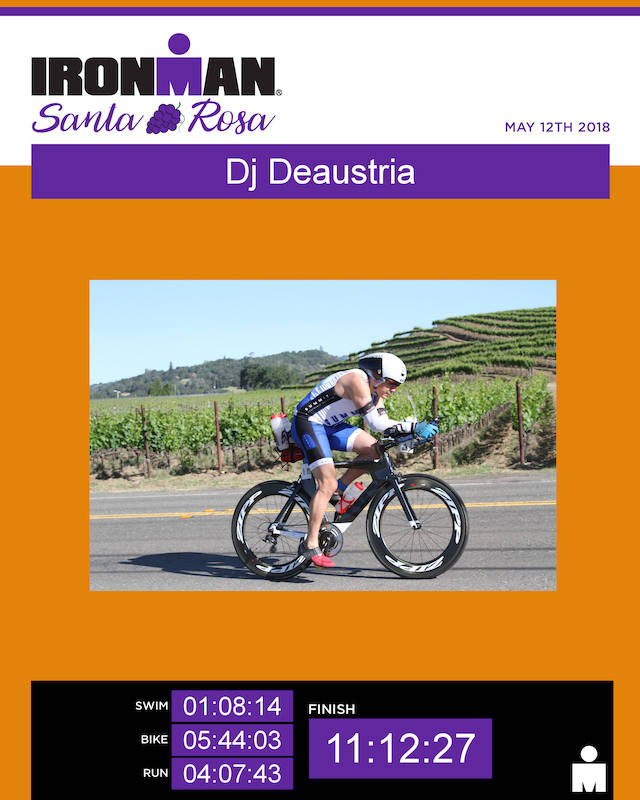 The bike course was a fair course nothing too steep but not flat, there was quite a bit of wind that day, but nothing unexpected. My normalized watts lined up with my goal 173, but my average was only 151—an indication that I wasn't very even. Looking at my splits, my power declined through out the race. The course was mostly on bumpy agriculture roads, normally not an issue for me, but because I did so much work on the rollers and didn't do longer rides outside, my sit bones became swollen and painful. A mild limiter as I started standing in anticipation of bumps or because of the bumps I didn't see in time. I suspected the wind had picked up when I passed a smaller woman with a disk wheel soft-pedaling out of aero I will assume to make balancing in the wind easier. The entire field was less than 2000, and while I was being passed all day by mile 90 I was mostly alone on the course. Unlike Vineman Ironman in 2016 I didn't have a mechanical / flat tire. I came into to town and tried to dismount my bike, a well intentioned volunteer grabbed my handle bars as I came to a stop and would not let me lean the bike over to get my leg over the seat and bottles. It took a few sentences to make him understand that because of my prosthetic hip I could not swing my leg over the top tube without leaning the bike, but eventually we worked it out and away I went to become a runner. My bike split was 5:44, 10 minutes slower than the baseless prediction I had made.
The run course was flat and along a shaded creek trail, and many parts were gravel, potentially a fast course. The aid stations didn't always match up with a mile marker which I didn't realize. I am reliant on the aid stations for my walking breaks, but because it was a two loop course, by the 2nd I was able to somewhat figure out a strategy. Kristin was able to see me a couple times across the creek bed and give me a shout out, I replied as enthusiastically as I could, that is always fun. The course became crowded on my second lap since others were on their first. The final mile or so was super fun, the crowd along the shoot was energetic. I finished but I wasn't as beat up as I'd like to be. I had too many mental holidays throughout the race both on the bike and run. My spilt was 4:06:59. I always hope for a 3:59:59 and I think that was a possibility for this race.
I made my way to the post race meal. And they had two types of Paella along with usual fair of pizza, chips, and generic sodas. They also had local beer and wine vendors I really wish this was the norm at WTC events. I was able to watch Kristin finish without going very far. The food and drink area was inside a park, where spectators and athletes could mingle, one side of the park was the final block of the run so we could cheer people on while having the best post race meals I've had at WTC race.
After having a few thousand calories, I gathered my gear and got to say Congratulations to Desiree Linden, who had won the Boston Marathon a few weeks prior, in one of the guttiest races ever. She smiled and congratulated me which was pretty funny.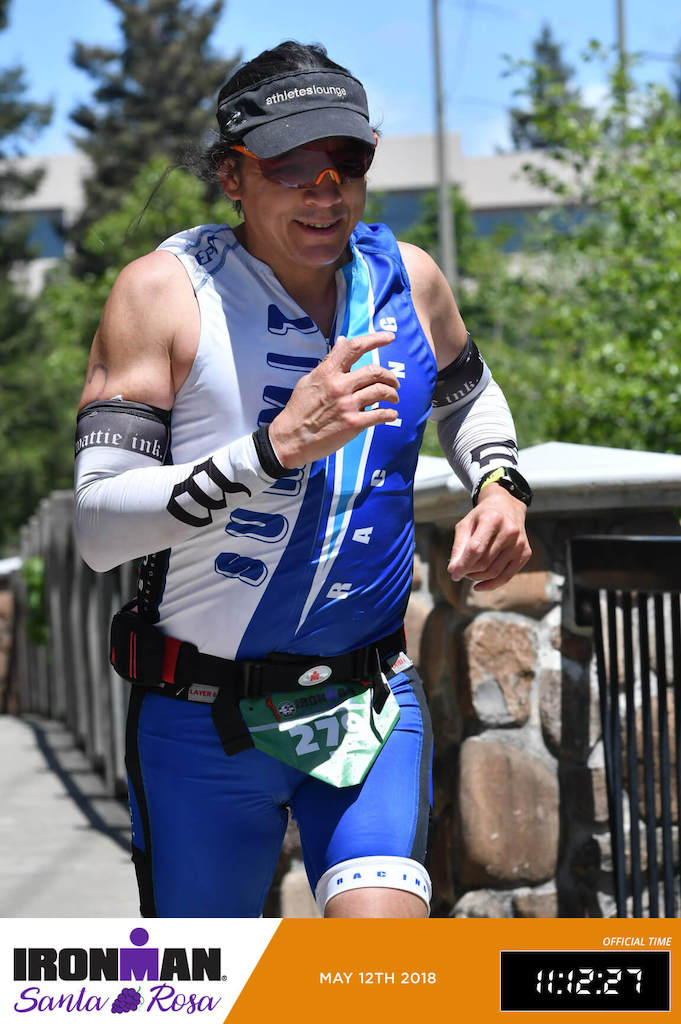 I ended 25th in my age group out on only 189. That was bit humbling as the past two raced I was 9th and 5th and thought I had figured a few things out. My swim and run splits were close to expected, the bike was not. If I had executed the bike split as I thought reasonably possible I still would have been only 20th and far away from 19th. The field was fast in my age group that day.
Kona the Ironman World Championships
Getting to Kona is the reason I have been doing multiple Ironman races since 2014.
2014 Ironman Canada at Whistler, Ironman Arizona
2015 Ironman Coeur d'Alene, Ironman Canada at Whistler, Ironman Lake Tahoe
2016 Vineman Ironman, Ironman Arizona
2017 Ironman Coeur d'Alene, Ironman Arizona.
2018 Ironman Santa Rosa , And "Kona" The Ironman World Championships
I flew in 9 days before the race to get used to the weather, and take care of all the little things.
Throughout the training build up to Kona I was on and off about what mind set I wanted to have. It's the world championships and I qualified via the legacy program so being in the top half of my age group would be a dream day. We also moved to a much nicer place within in Portland to an area that is much better for training a few months before the race. The physical work to get the house ready, packed up, moved to the new house, and get moved in took a big toll on me physically along with the other stressors of a move, and also add a few weeks of poor air quality from fire smoke. I was circling through the ideas of, to do less than my best is to sacrifice the gift, and just be happy I've been given the gift, and someplace in-between. Training didn't go well but race magic has struck for me in the past.
The race itself and raceweek hold all the magic the Ironman World Championships one expects. The best Ironman athletes in the world in one place, Pro's and age groupers racing the same course on the same day. I'm still in awe that I was able to get to be on the course with these athletes.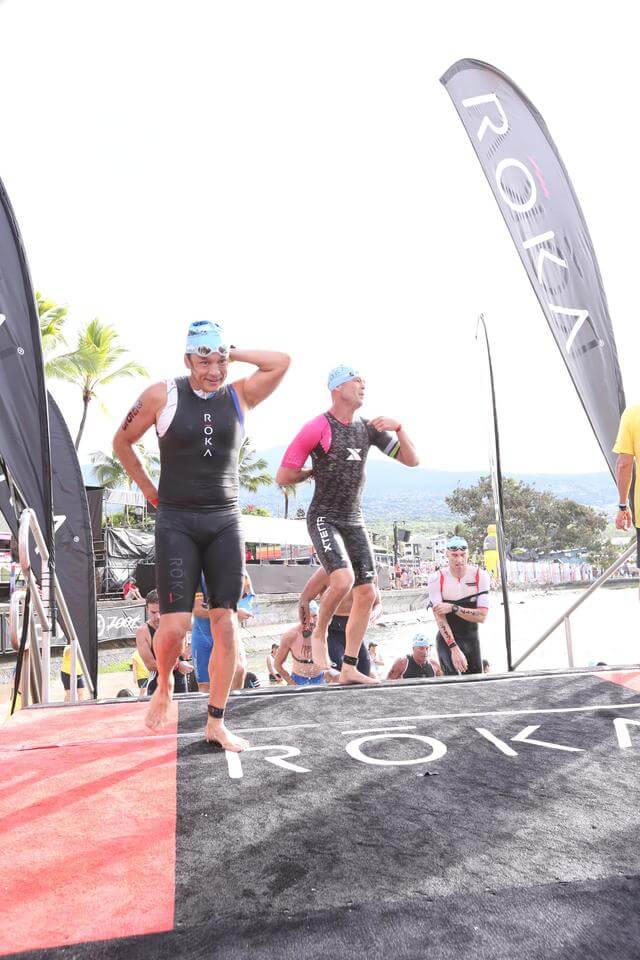 The swim went amazingly well, I took far too long setting up my transitions, and ended running into the water just a few minutes before the gun went off. It's a deep water start so when the gun went off I was swimming into people that were still treading water so I passed a bunch of people, and got into a group that was basically my speed. I was able to take it pretty easy most of the time; I made a few passes but for the most part it was just too crowded to pass. It's Kona—almost everyone can swim under 75 minutes. At some point the faster age group women caught us, I did my best to simply let them go, these athletes were podium contenders.
T1 went well, I rinsed the salt water off the best I could as advised by many.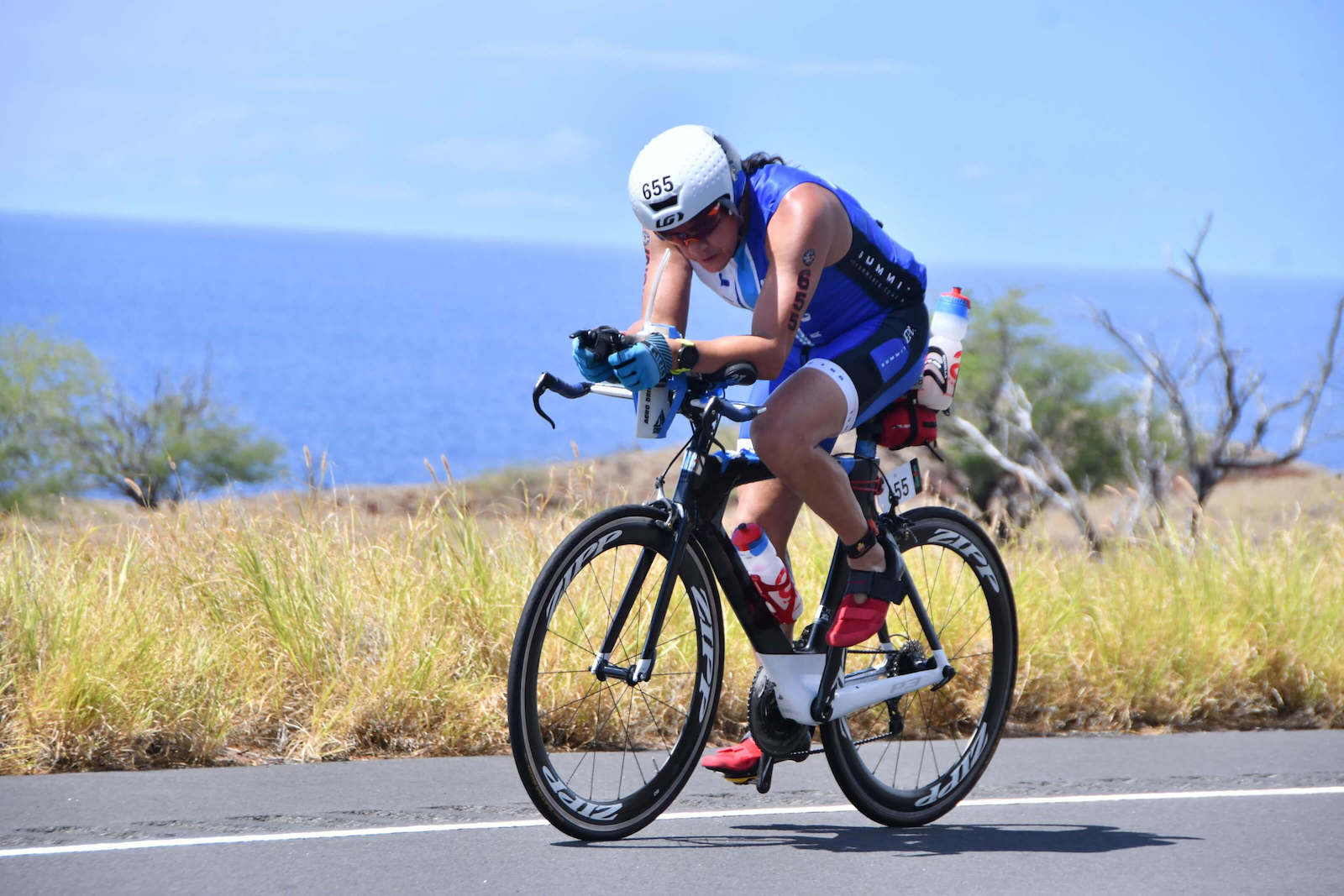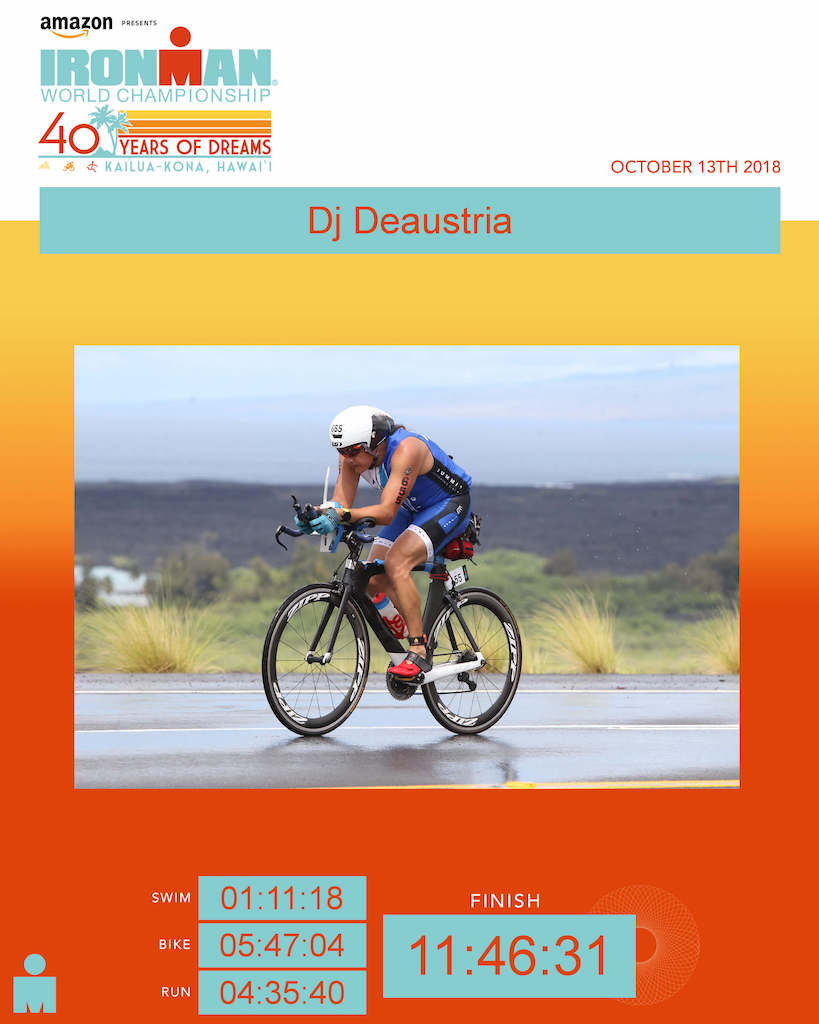 The bike was crowded, the most crowded first 20 miles of a race I have experienced. The first out and back there wasn't a fair way to keep the proper distance, I kept falling back as people would pass me only to be passed by a group of people. By mile 40 I was finally seeing what a non draft race is supposed to look like. I don't have answers there are simply lot of people that exit the water about the same time and so many of these athletes are similar in ability on the bike. For 2022 Kona will be a two day event, which might help.
The race was far in front of me, as expected. It was a perfect day, very little wind, and not too hot, course records of all kinds were made that day. I kept telling myself just have fun, stay within your watts, be happy to be part of Kona.
T2 I was met by Anita, one of the medical staff and a friend from Portland, it was awesome to have her run next to me for a bit. For the first time ever my feet went numb on the bike, I don't know why, but it took a bit for the numbness to go away.
The run
I saw Kristin early, and Randy and Brian a little later. I'm used to traveling and racing with lots of people and I get a boost when see familiar faces and kits, so it was great to see them. I really went into celebrating racing Kona early in the run. I did not stay focused on staying loose, in control, and going slow, which are the things I need to do to have a good race.
I try to give the volunteers a shout out, give a high five to a kid or two at an aid station, it's my way of saying thanks, I have spent many days volunteering at aid stations and always find it fun when a runner acknowledges the volunteers. I also distract myself and look for my friends racing and since so much of this race was away from town and hard to spectate I tried a little harder to give shouts outs to the few people I knew racing. I'm not sure where I saw Wayne and Greg, but I was able to give them a shout out. I know I saw Uwe early on my run late on his run, he is a podium contender where ever he races. I'm not sure he realized it was me when I yelled for him.
There is the dreaded energy lab part of the course, it's a beat up road, off the highway about miles 15-20. At the toughest/slowest part was there were many extra aid stations stocked with salts, cold towels, separate from the official aid tables. Since it was an out and back I had to slow down and at least say thanks to those that were there supporting the athletes. At that point in the race it's hard to focus without all the extra fun stuff. Once out of and past the energy lab and back on Queen Ka'ahumanu Highway it was mostly down hill and the sun had set. It was relatively easy, or I should say less hard. I was passing a few folks but we were some of the last athletes out there.
I finished pretty strong and had a smile on my face, finishing with at 11:46:31. Since I was behind most the finishers, the first and maybe the second post race nutrition was mostly gone, I had arrived before another round of pizza and Kalua pig was due to arrive.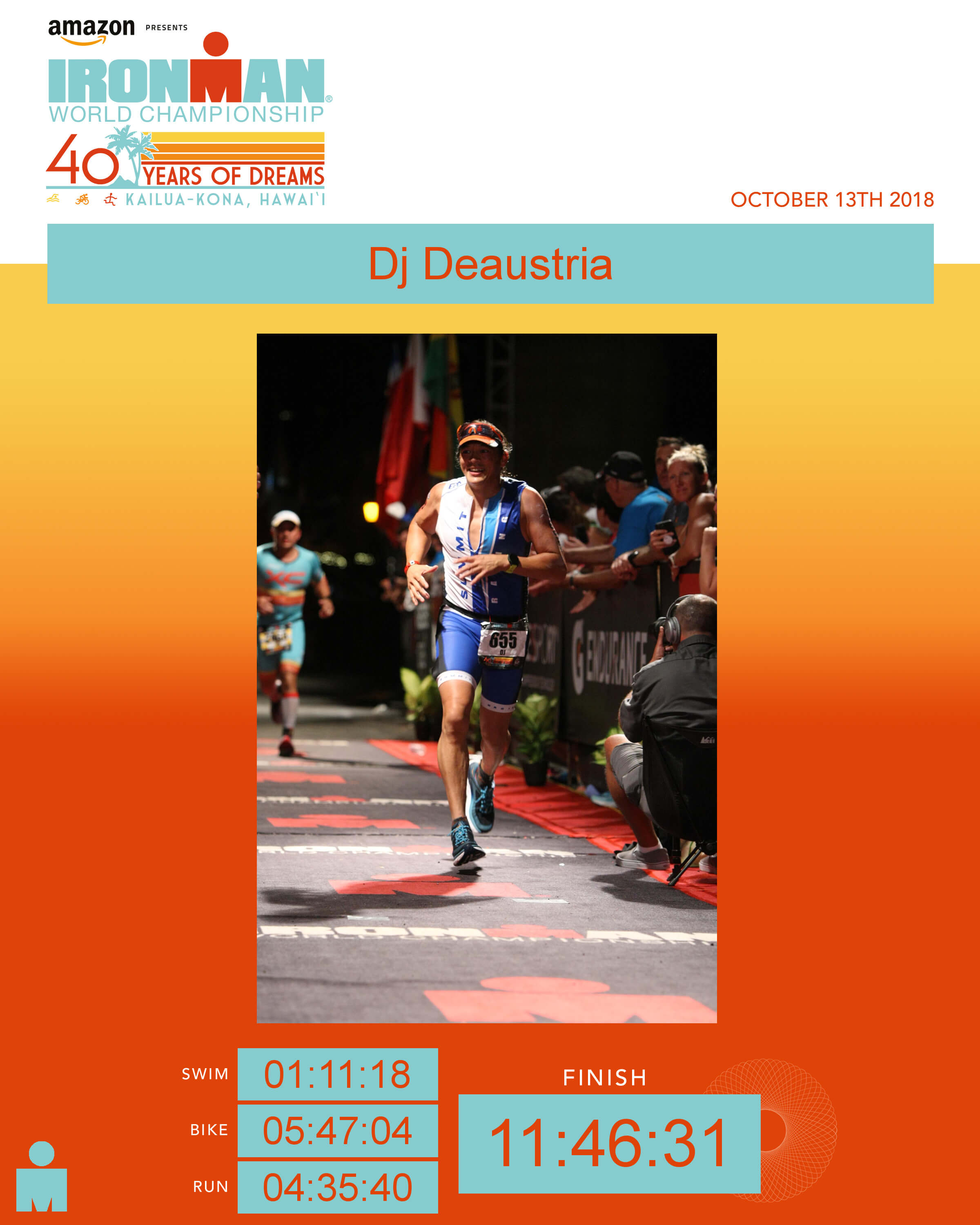 Kristin and I stayed another 7 days to be tourists. In 2014 I flew a red eye to Boston for the Marathon and flew out early the day after the race, and I decided if I ever do it or any other big race I'd stay and experience more of the area.
Ironman Arizona 2019
Post Kona I had my typical few weeks off and began looking for something else to work towards, a few friends were signing up for Ironman Arizona. I knew a late season race would work out with my schedule, and Kristin was doing a huge week of marathon swimming in Vermont, so I'd SUP as her support person, but at that point I didn't know how much she'd need me to SUP for her during her build up. I wanted to be ready to help out and not on my own training plan until after her events. I signed up riding the wave of excitement of racing with friends again.
Soon after I signed up for IMAZ my business landlord of 10 years let me know he was not going to run my lease for the following year, but I was lucky enough to have client with a great space in a cool building I could lease close by, so building up my business was less challenging than it could have been. 2019 was setting up to challenging, building up business again with my move, The North East Kingdom swims as a support SUP person, then switching gears to training for Ironman Arizona for the 4th time.
My training was finally catching some momentum, 2 months from the race, when I was clipped by a travel trailer going up a Rocky Point Road. The collision could have been much worse. My bike suffered and needed to be repaired, and I would need to balance recovery while preparing for an Ironman.
I take pride in registering, starting and finishing 19 Ironman races. I could have skipped this one in retrospect.
I typically train 12-16 hours a week, now I would need to add another 6 or so hours to make the rehabilitation appointments.
Since my bike was wrecked I used Kristin's bike, luckily we ride the same size frame. Bob, a long time training partner and friend, was able to set up her bike to fit me well enough, and we got my quarq swapped into her bottom bracket and I was set to go. I decided since I wasn't showing up in top shape I didn't need to be fitted for aero or power, I set it up on my own for comfort.
I arrived in Tempe and got the bike all set up with borrowed race wheels from Bob and Karon, and went out on my pre race ride and ran over a screw, with a new tubular tire. I was lucky, one the pop up shops in the Ironman village was able to tape a new tubular on, he told me there was not enough time to glue it and the tape would be fine as long as I didn't take the turns too tight and fast, I assured him that would not be a problem.
The swim course had changed since 2017 when I had done it last, I swam a 1:10, almost 2 minutes slower, as fast as my training indicated. It did seem like a slow year for a few others I know and the cold water surprised many people, again.
The bike has been the same each year I've done it and with 3 loop course, there wasn't any surprises. The wind wasn't especially tough. I did a decent job of keeping my watts and heart rate in the correct ranges. I came in at 5:34:27 I should not have given that much effort, 20 mph is 5:36 and I let the number get in the way of a controlled race.
After my run at Kona, I was pretty determined to stay focused even if I wasn't going to run fast. I wanted to run to my potential for the day, and I figured that meant 9:30's. I went out at 9:30 and although my heart rate was fine, the pace wasn't easy. I did my best to slow down just a little and it was working fairly well but by mile 10 I was running 10:30-11 pace. At mile 14 I was already 2:19 so 10 pace average, and I was slowing down. My marathon split was 4:31:50 10:23 pace over all. All most all of my race I pass more people then pass me but that was not the case for IMAZ 2019.
The gratitude I have for being able to train and race Ironman has only been amplified by the past two years. I have haven't raced since Ironman Arizona 2019. I had planned to take 2020 off and race locally, do some other races, and do other things. But we all know how 2020 went. 2021 ended up being an extension of the sabbatical from racing. Ironman racing included.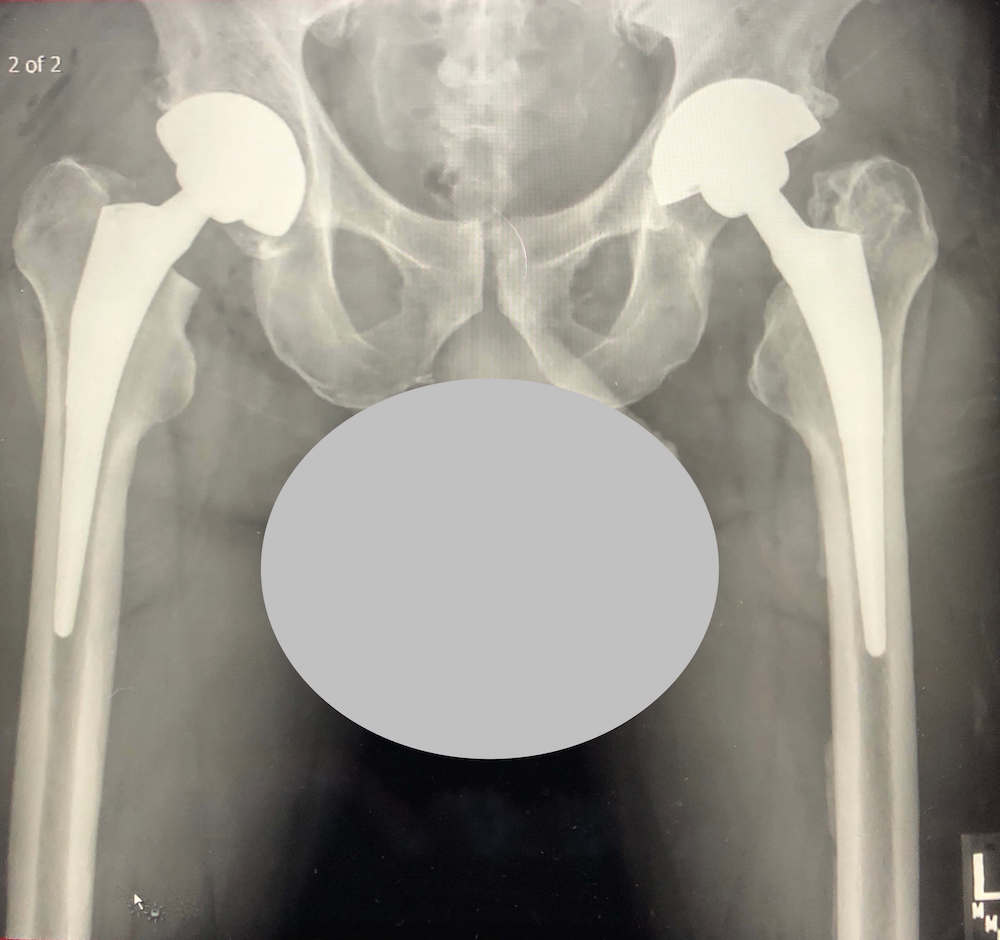 In 2012 I had my left hip replaced, and I had been having similar pain in the right hip since 2017 and finally decided I needed at least an x-ray and consultation with my surgeon. She told me the right hip was as bad as the left one was and it was time. I sought advice from quite a few of my people in medicine regarding getting a surgery at the time, my biggest concern was I taking resources from the teams that were treating those with covid-19. I was assured that wasn't the case. OHSU had essentially become two hospitals, at least that's how I understood it.
In 2012 I did Ironman Coeur d'Alene less than 6 months after the surgery, 2021 I knew it would be a longer recovery process and I honestly wasn't in a rush with the pandemic. This time I had other things to attend to, racing an Ironman wasn't urgent for me. I have registered, started and finished 14 Ironman raced since the first hip replacement and have overcome any doubt that I can race them.
It doesn't look like I will be racing an Ironman for the 2022 season, sadly I'm at the bottom of my age group but next season I'll still be closer to the bottom than the top. At some point being the youngest helps out quite a bit in this sport. I'd love to race the Penticton course since it was a few weeks after finishing it in 2011 I decided to replace the left hip. There are many races I'd like to try and places I'd like to go, but I expect I'd approach them with a joy of a different kind, being happy and thankful I have the ability to race an Ironman, at least in part because I know there are many that don't race and some that can't do an Ironman.